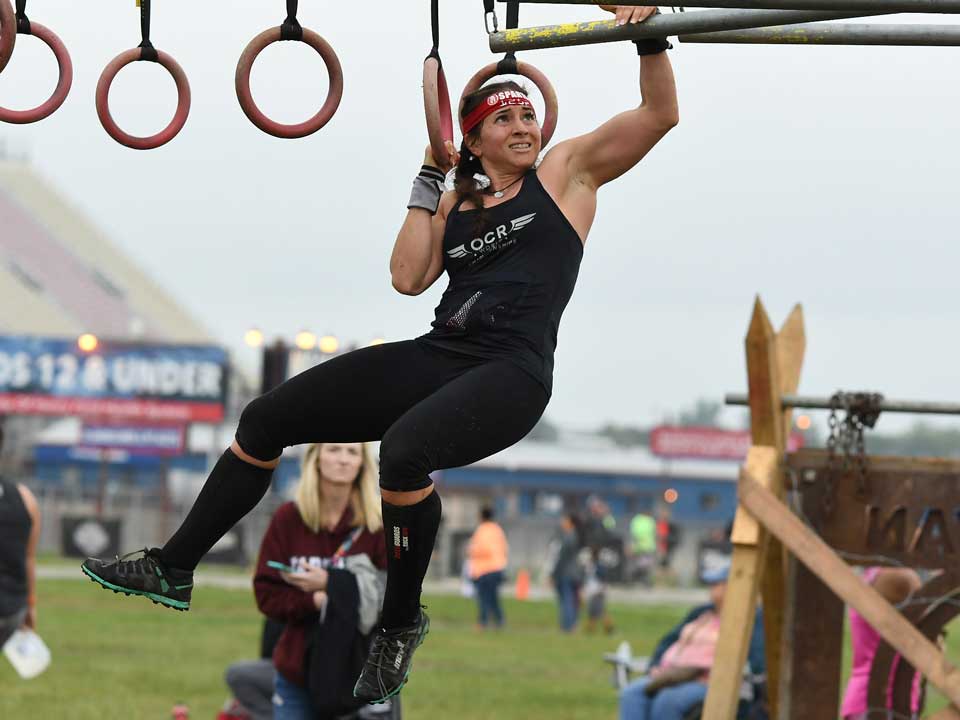 Lake Orion resident Samantha Wiens-Wice works her way across the rings during the Spartan race Saturday at Michigan International Speedway. Photo by Jeff Steers, JTV Sports.
By Jeff Steers
JTV Sports
Lake Orion resident Samantha Wiens-Wice said she tells her students to keep working and be willing to fail.
Saturday, she walked – or ran – the talk and put her body and mind to the task.
Wiens-Wice was one of nearly 6,000 expected to compete at Spartan races at Michigan International Speedway this weekend.
The Super Race – and eight-mile event with 27 obstacles – was held on Saturday at the Brooklyn speedway.
Sunday the Sprint Race – half the distance, but with 21 obstacles – is scheduled to be held. There are still spots available for Sunday.
Wiens-Wice said the Spartan events lets you know where your level of physical fitness stands.
"There are places where I failed today … but I will keep working at it," Wiens-Wice said.
Sunday, Wiens-Wice is scheduled to participate in the Sprint Race – completing the trifecta of Beast, Super and Sprint races.
Spartan races started in the Green Mountains of Vermont when Spartan founder Joe De Sena became increasingly aware that humans are missing a critical component in the modern work.
"As we took steps forward technologically, holistic health took a step backward," De Sena wrote on the Spartan.com website. "Life is getting easier, but as a result people are becoming overweight, depressed, lonely and less self-sufficient."
The races – started in 2010 – are inspired by the warrior society of ancient Spartan.
This is the third Spartan race at Michigan International Speedway. Spartan has grown to 250-plus annual events in more than 40 countries. The event at MIS on Saturday was one of six events – the other in the United States in Seattle – in five different countries.
For more information on Sunday's race, go to www.Spartan.com.