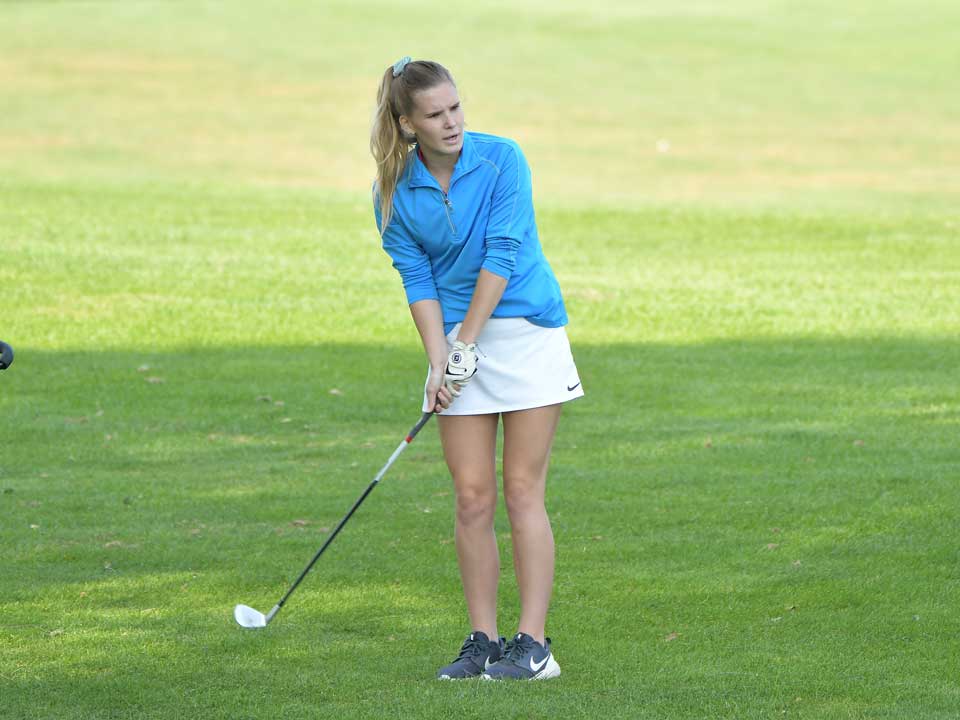 Columbia Central High School golfer Elizabeth Tyndall earned first-team all-conference honors in the Independent Golf League. Photo by Jeff Steers, JTV Sports.
By Jeff Steers
JTV Sports
(September 22, 2020 6:01 PM) It was a pretty good day for Onsted High School golfer Jaime Metzger.
She celebrated her 17th birthday on Tuesday and became the top golfer in the Independent Golf League for a second consecutive season.
Onsted and Columbia Central high schools tied for second place in the IGL after the finals at Lakeland Hills Golf Course.
Lenawee Christian won the even with a team score of 393. Columbia Central shot 425 and Onsted was third with 440 at the league final.
Columbia Central entered the IGL finals two points behind Onsted. The finals were worth twice the points based on an 18-hole tournament.
Metzger finished with a 92 for 18 holes at the IGL final.
"The keys to my success were my team, coach, dad, and grandfather," Metzger said.
Metzger finished sixth in the state at the Michigan High School Athletic Association Division 4 tournament in 2019. Despite one less team and one less individual earning a spot in the 2020 state finals, the OHS senior believes she can make it back to the state meet.
"Based on our region, I think I have a good chance of qualifying for the state meet individually," Metzger said.
She earned the top ranking in the league based on her scoring average. CCHS golfer Elizabeth Tyndall finished tied for fifth with Annika Berg of Onsted for fifth place in the conference and first-team honors.
CCHS senior Reyna Oudekerk and Maddy Zellen of Onsted earned second-team honors.
The IGL final marked the last one for CCHS golf Coach Mike Jordon. He will end 35 years of coaching golf in October.
"Outside of Dave Swartout (of Lumen Christi Catholic High School), I may be second in the state in the number of years coaching girls' golf," Jordon said.
Jordon took teams to the state golf finals seven times.
"I plan to do enjoy a little more family time – probably more camping and outdoor stuff," Jordon said.