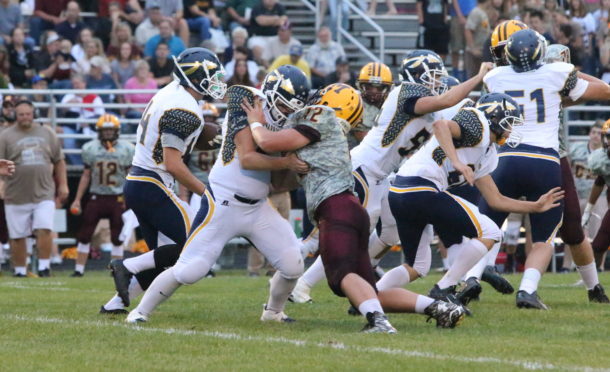 Grass Lake Warriors
Last season's record: 5-5
Returning starters: 6 on offense, 5 on defense
First Game: Aug. 26 at Stockbridge 7 p.m.
Offensive keys:
The Warriors averaged nearly 30 points per game last season, which made a 5-5 finish somewhat surprising. But, as the 2016 campaign is set to launch, the offense has a chance to be even stronger with more than half the starting lineup back in the fold.
"Offensive line play and quarterback play, to start," coach Randy Cole said when asked what has to fuel the group. "After that, we have to develop some receivers. We have some solid backs we will rely on."
Jonathan Lutchka started at receiver a year ago, but has made the switch to quarterback.
Luke Coppernoll (675 yards and seven touchdowns) and Danny Vuocolo (300 yards, four scores) will be the primary backs behind Lutchka.
"I expect our line to be pretty good, too," Cole said. "We have three guys back who started last year."
Defensive keys:
After starting 2015 with a 2-4 record, it was the defense that locked down in three wins to get things back on track.
Five guys from that group are back this fall, including the team's leading tackler. Zach Forman, who had 79 takedowns a year ago.
Michael Molitz also returns after picking up 47 tackles and 12 sacks in 2015.
"Right now, we have to develop some experience in the secondary," Cole said. "We have two guys back, and right off the bat we'll see some teams try and throw it on us."
Coach's outlook:
"We have a real strong group of seniors, a big group of 17," Cole said. "It's on them to lead us to do some good things. We had a good offseason. We're excited to get this going."
Something to think about:
Grass Lake hasn't missed the playoffs since 2004, and since 1998 has been on the outside looking in just three times.
Last year's 2-4 start greatly threatened that streak before the Warriors went 3-0 down the stretch and earned an at-large berth.
Then came Manchester and a 43-30 loss, the third loss in the past two years to the Flying Dutchmen.
The teams meet in Week 4 this year.