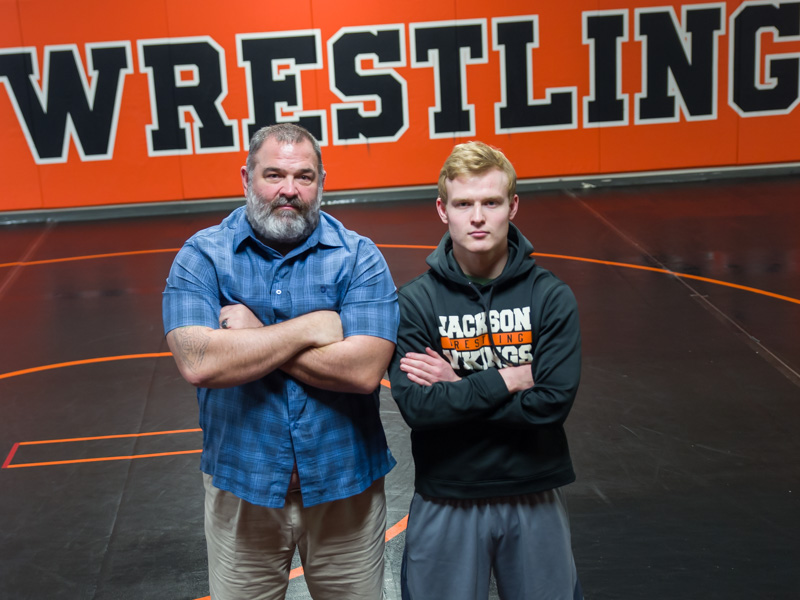 By Gary Kalahar (Photo By Ryan Kerwin, JTV Sports)
Staff Writer
Jackson – Perhaps it is not surprising that the individual aspect of wrestling is what Mark and Noah Hubbard find most appealing about the sport.
In a sense, the Jackson High School wrestling coach and his son have been on their own for many years.
After a divorce when his son was just shy of two years old, Mark raised Noah and sister Sydnee essentially himself as their mother remained largely out of the picture.
"I'm thankful for him," Noah said. "I could have very well taken that negative situation and followed along that path and gone down somewhere that I wasn't supposed to. But instead he was always there to keep my head straight. I used it more as motivation, to prove that I could be successful despite not having a mom and having to deal with that as a young kid."
It would be an understatement to say that Noah will emerge from his school-age years having proven that. A 4.0 student with a course load that's included high-level calculus and physics, Hubbard was academic all-state in football and is aiming for the same honor in wrestling, where he is a leader for the Vikings both on and off the mat. He plans to attend the University of Michigan next year to study aerospace engineering.
Mark appreciates and admires the way his son has grown as a wrestler and as a man.
"Wrestling more than any sport, I think, teaches boys how to become men," Mark said. "With life, it's ultimately you that puts your shoes on and steps out the door, and you have to deal with whatever comes. Wrestling is the same. You step on the line, and you can't blame anybody else. You can't say someone didn't give you the ball, someone fumbled, the coach can't come out there and teach you anymore. It comes down to mano a mano, and you learn."
Hubbard is in his third season as Jackson's head coach after previously coaching at the Middle School at Parkside, where he teaches science. An all-state wrestler at Concord, he has been in education and coaching for more than 30 years. But there was no rushing Noah into wrestling like so many who start as soon as they can lace up their shoes. He remembers his dad putting him on the mat when he was six years old and asking him how it felt.
"I told him I didn't like it; wrestling was not a sport for me," Noah said.
And that was it. Mark was not going to force his son into a sport that he didn't enjoy.
"There was no pressure," Noah said. "His philosophy was, a lot of kids who wrestle their whole lives get burned out. He loves the sport so much, and if he saw that happen with his kid, I feel like that would have torn him apart. I'm glad, because it let me develop a love and passion for the sport."
When Noah reached seventh grade at Parkside, Mark nudged him to give wrestling another try. This time, the result was different.
"I was very uncoordinated and looked like a kid that should not be in that wrestling room," Noah recalled. "But I liked it, and I fell in love with it. Knowing no one else did it but you, the only person in control of that match was you, and getting that hand raised (after a victory) is one of the most rewarding feelings.
"It's a grind. No one likes to sweat and bleed and work their butt off 24/7. But when you get your hand raised, it's addictive and you fall in love with it. The more hard work you put in, the more rewarding it is."
Noah describes himself as "chubby" in middle school, and as a freshman he was in the Vikings lineup at the 215-pound weight class. That is where he remained, even though he slimmed down to around 190 pounds last year. He compiled a 34-8 record as a junior, winning a Capital Area Activities Conference championship and finishing second in the Division 1 district before falling in the regional.
"I wrestled kids who were 6-2 and 215 in the regional," he said. "That's when I said, I need to get down to a weight where kids look like me."
Weighing around 200 pounds last fall for his third season on the Jackson football team, Hubbard cut about 30 pounds so he could wrestle in the 171 class this season.
"I did it smart over about two months," he said. "The last 10 pounds were real hard. I had to really be disciplined for that. When friends call you up to go out to eat, you say, 'I can go there, but I'm having water.' So that makes it a little difficult."
Hubbard's 25-7 record as a senior includes his 100th career victory, achieved last week in a match against Lansing Eastern. His goals are another CAAC title and a trip to the state meet, being held at Ford Field for the first time.
As the coach's son, a captain and one of just two seniors in a lineup dominated by underclassmen, Hubbard is aware of his added responsibility.
"It pushes you to do more, to go the extra step, to work harder rather than think you can slack off," he said. "I have to deal with some things that no other kid does."
Noah sees himself as the middle man between dad and his teammates, whether that means cleaning the mats or running warm-ups or demonstrating techniques.
"He can say something that doesn't make sense, and I can still take it and do what he wants," Noah said.
Acknowledging a father's bias, Mark says his son has proven to be a natural for a leadership role.
"He's always been that way, even in middle school," Mark said. "He's not afraid to get his hands dirty. And he's very intelligent. He thinks his way through things. He probably would be a better coach than he is an athlete, and he's a darned good athlete."
The father-son relationship is always tested when it becomes coach-athlete. That can be especially true in a sport such as wrestling.
"It's already intense and you love the kids like they're your own kids anyhow, and then to have your own kid," Mark said. "I get angrier, I wrestle every match with him. I'm like on the mat with him. I have to pull myself away."
The Hubbards say the wrestling talk does continue at home. Sometimes the discussion is lively.
"Then there comes a point," Mark said, "where I finally say, 'I'm the coach, listen to the coach. Shut your mouth and listen to the coach.' "
Life changed for the Hubbards three years ago, when Mark married Beth.
"She's definitely been the mother figure I didn't have," Noah said.
"She's an amazing woman," Mark said.
The family dynamics might have changed, but the bond forged by Mark, Noah and Sydnee – who was also a top student and a two-sport standout at Concord and is now studying at Palmer College of Chiropractic – is forever.
"Single parenting sucks, and today's world is not set up for single male parents," Mark said. "I was single for 14 years. My kids were first. You give up yourself for them. When you're single, you have to do that.
"It's been wonderful coaching Noah. I wouldn't regret one second of it. I'll never forget it, and I don't think he will either. My son knows I'm there, and he knows I love him, and that's the kind of parent I want to be."